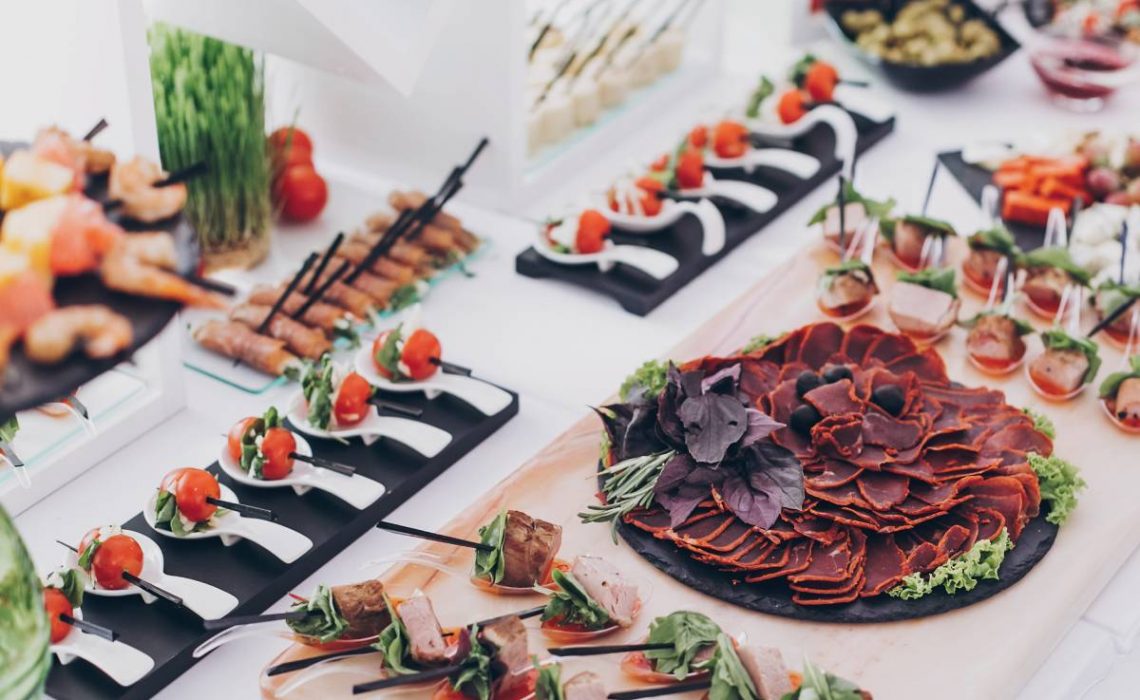 Weddings are stressful! Sure, not for the guests who get to turn up after little no involvement with the planning, watch some of their favourite people get married, and then eat, drink, and dance until their heart's content; but as for you – ensuring that your special day goes off without a hitch can be a traumatic experience. 
But, don't let this put you off! The key to getting through it in one piece is planning well enough in advance, asking people for help when necessary, and doing plenty of research. 
For example: have you given much thought to choosing a wedding menu? What is the most common food served at a typical wedding and why? And how many different food options should you have? 
In this article, we're going to try and lighten the load for you by sharing some tips and inspiration for putting on the great wedding feast ever! Let's tuck in, shall we?
How do I choose a wedding menu?
How does one choose a wedding menu? This is a tricky question because there are so many different factors involved. For example:
How much budget do you have available for catering? 

How many guests are attending? 

Where is your wedding being hosted? 

What time of year is your wedding? 

Will you be outdoors or indoors?

Dietary considerations / preferences. 

And so much more!
Budget: The first step is to consider your budget. Generally speaking, wedding catering tends to be one of the biggest aspects of a wedding, averaging about 23% of the total budget. This might sound like an awful lot, but when you think about how many mouths you have to feed, it's realistic.
Cost Per Head: In any case, once you have a clearer idea as to how much money you can afford to set aside for wedding catering, you can start shopping around and exploring your options. Then you can break that number down into an average 'cost per head', giving you an even clearer idea as to what kind of menu you can choose. 
Where and When: You may already have a clear idea as to where you want to host your wedding, but first you must find out A) Whether they have the option to cater for you, and B) If they will allow outside wedding catering – either way. 
If your dream venue does offer wedding catering, explore it by all means. However, we would always recommend finding a third-party company that specialises solely in wedding catering, for the best results. 
Consult the Professionals: If you do decide to settle on a third-party wedding catering company, then you'll have access to expert knowledge and advice on how best to approach the menu. Again, depending on the "when" (e.g., a summer wedding), your wedding catering company will likely already have some amazing menu ideas for every season. 
Outdoors or Indoors: If you're having a summer wedding with a large outdoor area and marquee, the menu should reflect that. For example, many companies are an option for food trucks and BBQs for summer weddings. This is an amazing approach, giving the wedding catering a more casual vibe, while still providing everyone with phenomenal food.
Wedding Theme / Your Tastes: You should also think about whether or not there is a certain theme to your wedding. Also, don't neglect your tastes. If you relish the idea of having tonnes of pizza and ice cream served at your wedding, then go ahead and do it!
Dietary Considerations: You should also take a close look at who's attending your wedding and factor in all dietary considerations. You should have at least one quality vegan option to accommodate any vegans and vegetarians attending. If you are doing a 3-course meal, make sure that there is a vegan option for all three. The same applies to gluten/dairy free etc. Rather than having to make special meals for individual people, consider having a meal option that is delicious and well-optimised, while catering to people with a variety of dietary preferences/requirements. And don't skimp on it either. A plain leafy salad won't cut it.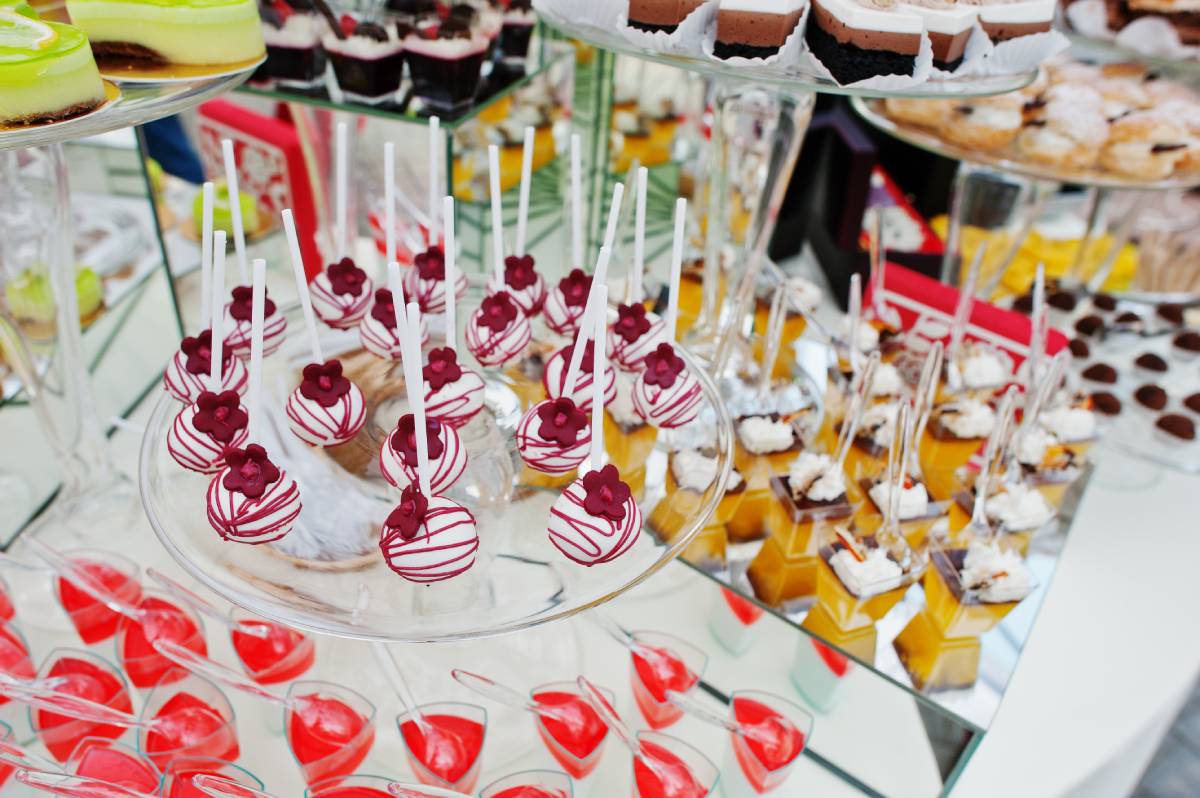 What is the most common food served at weddings?
Besides cake of course, what is the most common food served at weddings? Generally speaking, a meat and veg option has always been a safe bet. Chicken and pork dishes in particular are very common because they're the most affordable. In any case, let's look at a few common starters, mains, and deserts: 
Common starters:

shrimp cocktail, soup, salad, fruit. 

Common mains:

chicken & pork dishes, grilled rack of lamb, spring veggie risotto, seasonal fish. 

Common deserts: fruit, macaroons, chocolate fountain, cheesecake, ice cream.
If you are on a bit of a budget and wish to keep it simple, some of the above ideas should provide you with some inspiration. Ultimately, as long as the quality is there and you provide enough variety to cater to everyone, you can't go wrong! After all, the guests are getting a pretty good deal out of it when there's free food! 
When in doubt, think about a balanced diet and draw inspiration from that. 
How many food options should you have at a wedding?
Again, so long as your wedding catering accommodates people with certain dietary restrictions/preferences, you can't really go wrong. If you are having a 3-course meal, you should offer at least 3 to 4 different options for each course. 
If you would like to provide as much variety as possible, the BBQ/buffet approach always goes down wonderfully well. Not only will these ensure that everyone will have a wide variety of food to choose from, but it also promotes more interaction between guests and can help save money on labour.
Conclusion 
Wedding catering is the most important aspect of any wedding. The fact is, you're going to have a venue full of guests working up a big appetite over a long day. You must feed them well and give them plenty of opportunities to graze throughout the day/evening. 
We hope that you have found this article helpful and wish you all the very best on your special day!