The modern café is just as much about the overall vibe as it is about the quality of the coffee. Certainly, it's important that any reputable café serve delicious, well-priced coffee from sustainably sourced suppliers if they wish to remain competitive, however, it is fair to say that without an attractive interior, it will be practically impossible to stay afloat in such a highly competitive market. 
So, why is café interior design so important? And how can you make your café look more attractive to your ideal customers? Are there certain colour schemes that work better than others? 
In this article, we're going to delve a little deeper into the world of café interior design. Here's what you need to know…
Why is café interior design important? 
Café interior design is so important because coffee shops should provide their guests with an experience. It's not just about serving them a hot cup of coffee and sending them on their way, but providing a calm and inviting environment where they can happily relax and unwind – whether they are working, catching up with friends, or simply enjoying their lunch break.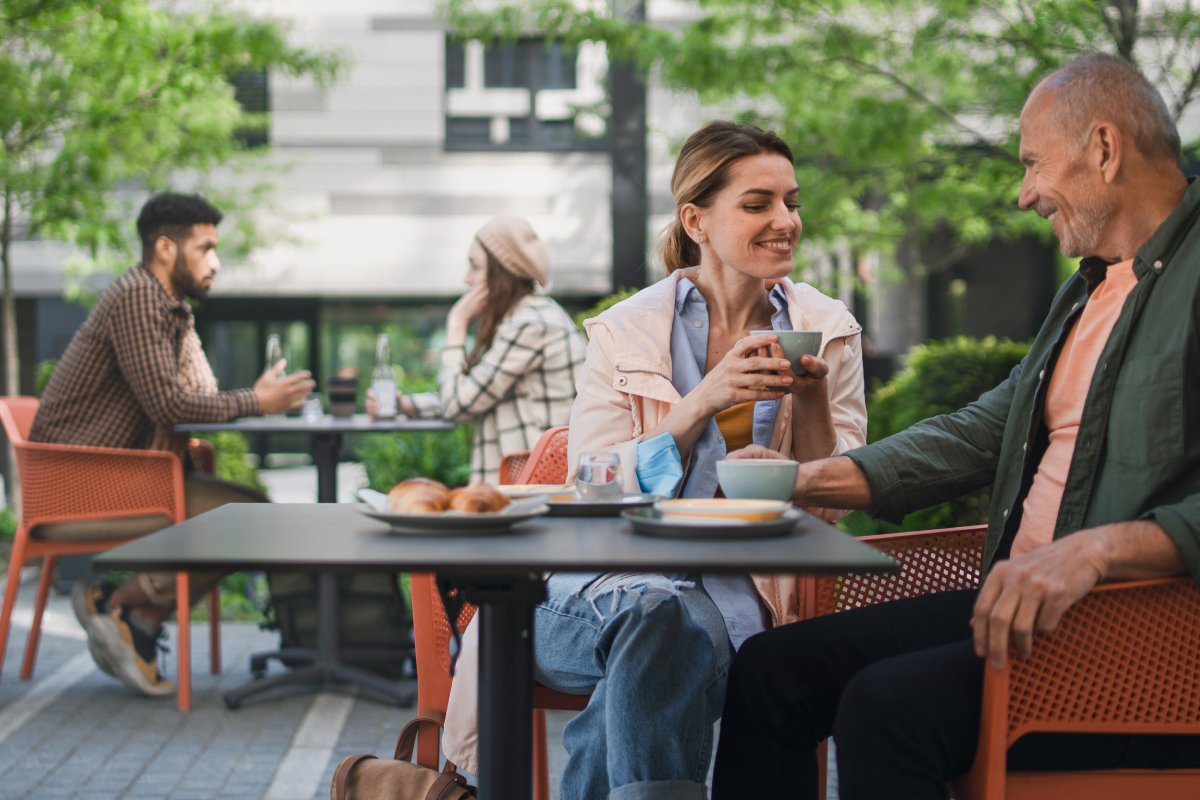 In fact, the interior design of your establishment is equally as important as the quality of food, beverage, and service that you provide. They are each critical components that make up a successful coffee shop and if you neglect even one of them, you'll be hard-pressed to outshine your competition (of which there is a great deal). 
It's important to note that interior design is not just about mere aesthetics. Every design choice, every spatial decision, and every feature must be calculated with expert precision. It's not enough to slap a fresh coat of paint on the walls and throw some cushions on the chairs. 
Read on and we'll share some tips on how to make your café more attractive to your ideal audience. 
How can I make my café look more attractive? 
In order to better understand how you can make your café look more attractive, first you need to think carefully about who you are trying to attract. Proper interior design is all about psychology – getting inside the mind of the consumer and creating an atmosphere that will be aligned with their desires and thus be irresistible to them when looking for a spot to enjoy some coffee and unwind.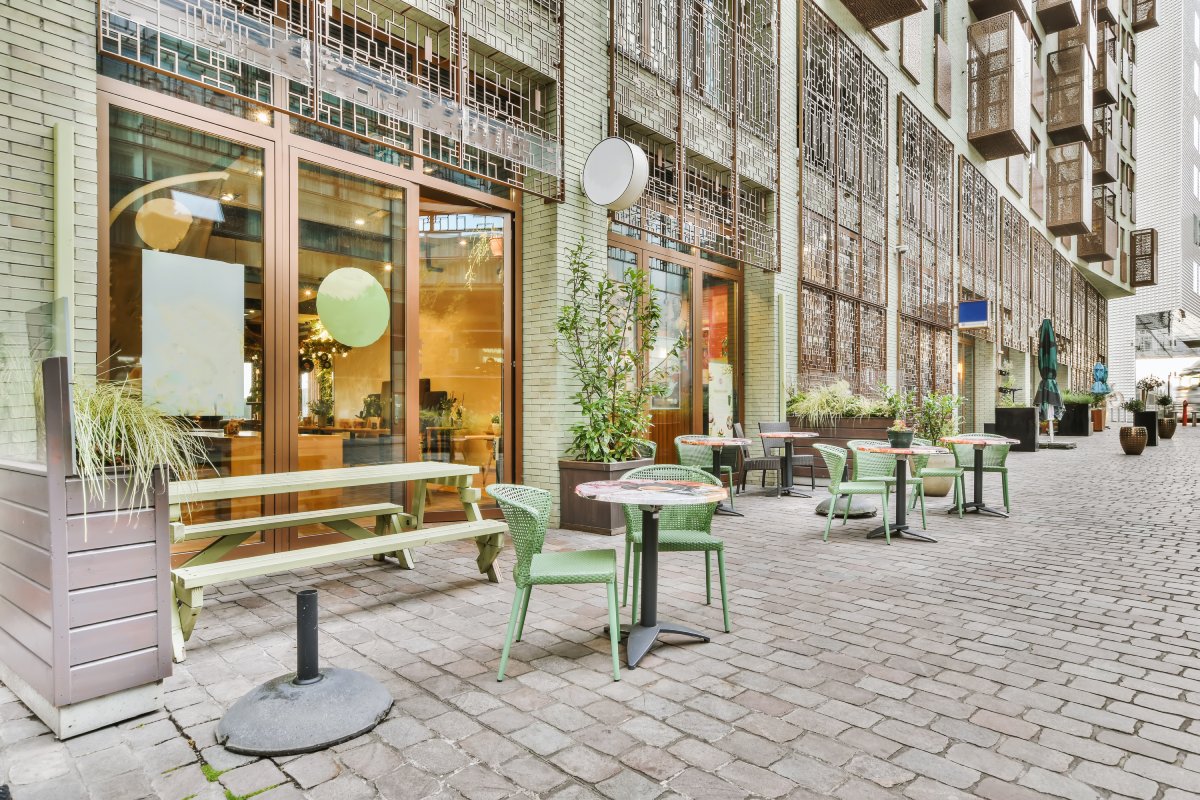 Here are some top tips for successfully attracting the right customers to your establishment: 
Build your design around your ideal customer:

where is your café located? Are you right next to a university? If so your primary target will likely be students. In this case, going for a more youthful and colourful vibe with on-trend music would be a good place to start. If you are looking to create a workspace for writers and digital nomads, then a quieter spot with excellent furniture that can comfortably accommodate them is key – as is having well-optimised seating arrangements. 
Should you have ample charging stations? 
Can you provide an outdoor seating area? 
What can you learn from colour psychology? 
Is your focus dining in or taking away? (or both):

what kind of establishment do you want to run? Would you prefer an in-and-out vibe where customers can conveniently grab their coffee and go? Or are you looking to create more of an inviting workspace where punters can grab a coffee, have some food, and spend an hour or two relaxing with friends? Or perhaps you want to provide a blend of both? This decision will also tie in rather closely with the type of customer that you want to attract – what sort of experience will they be looking for? 
Minimal seating with bold colour schemes promotes a fast-paced 'quick-stop' vibe
Softer colours and relaxing music are more attractive to those looking for a place to unwind
Lighting is highly underrated:

do not underestimate the power of well-optimised lighting in a café. You should use light with intention and create the desired ambience. This can be done with all manner of spotlights and lampshades – not to mention allowing an abundance of natural light where possible. You can even install fairy lights with various colour temperatures. Just remember that better lighting will be required if you want to make your coffee shop more attractive to remote workers. 
Acoustics are key:

another important factor of café interior design is acoustics. You want to create a space that dampens sound effectively and enables people to enjoy hushed conversations without having to listen to the conversation happening next to them. Having well-placed seating and proper acoustics can accommodate this. 
Spatial arrangement and privacy:

whether you are short on space or have ample room to experiment, the important thing is that your café doesn't feel too crowded. Especially for smaller establishments you'll need to get very creative with your spatial arrangements. Ensure that you provide your guests with the right balance of privacy, while also promoting a social atmosphere as well. It's a delicate balance indeed! 
What are the best colours for a café? 
And what about colours? What are the best colours for a café? This all depends on the vibe that you are going for and the people that you are looking to attract. 
One of the more popular colour themes for cafés is an earthy vibe, implementing colours like brown, dark orange, olive green, amber, and beige. 
Before settling on a colour scheme of your own, read up on the psychology of colour in café and restaurant design. Here are some quick examples:
These are just a handful. The spectrum is wide with all manner of shades and temperatures, each with its own energy. Find the right notes for you and watch as your café thrives! 
Conclusion 
As you can see, café interior design is a critical component and something that requires careful consideration. Understand that to the average consumer, coffee is coffee. However, what they will be paying close attention to is the overall vibe and layout of your space. 
If you truly want to attract the best customers and remain ahead of the competition, go all out when designing a unique and inviting atmosphere for them to enjoy.